Edmonton police seized more than $3.3 million in illegal cannabis plants and products after a five-month investigation into a local online cannabis retailer.
The Edmonton Police Service (EPS) said the investigation is ongoing and charges are pending against "multiple" people.
The EPS Drugs and Gang Enforcement Section started an investigation into an online cannabis retailer operating in the Edmonton area in March. Police said investigators determined the business was not licensed to grow and sell cannabi,s and were doing so illegally at multiple locations around the city.
Investigators believe cannabis production licenses for personal medical needs were being misused by the suspects to facilitate production, the EPS said.
Search warrants were executed at multiple homes in Edmonton and a warehouse in Onoway on July 19.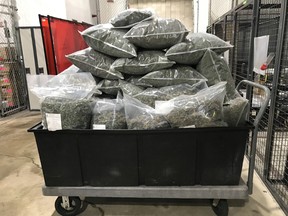 Police said the warrants resulted in the seizure of 2,589 cannabis plants with a street value of about $2.6 million, 134.2 kilograms of dried cannabis flower worth around $779,000, 947 grams of psilocybin worth approximately $12,000, 636 grams of cannabis concentrate products with a value of about $14,00 and $15,500 in cash.
Cannabis cultivation equipment, including specialized lighting equipment worth around $177,000, a 2022 Tesla Model 3, a 2020 Tesla Model 3 and a 2016 Dodge Ram were also seized, police said.
"The funds derived from the illegal production and sale of cannabis results in the proceeds generated being injected into the legitimate economy," Const. Dan Melnyk with EDGE said in a Friday release.
"This can unfortunately undermine the integrity of the financial system."
Melnyk added the illegal production and sale of cannabis causes legal cannabis production sites and licensed retailers to incur a large loss of revenue.
Edmonton Journal Headline News
Sign up to receive daily headline news from the Edmonton Journal, a division of Postmedia Network Inc.
By clicking on the sign up button you consent to receive the above newsletter from Postmedia Network Inc. You may unsubscribe any time by clicking on the unsubscribe link at the bottom of our emails. Postmedia Network Inc. | 365 Bloor Street East, Toronto, Ontario, M4W 3L4 | 416-383-2300