Warning: this story contains disturbing details, including references to suicide, domestic abuse and violence against children.
A brain injury suffered as a young adult caused David Michael Moss to develop an "insidious" mental illness that led him to gradually detach from reality, a psychologist testified in his defence Monday.
David Michael Moss, 36, faces a charge of second-degree murder for killing seven-year-old Bella Rose Desrosiers in her home in 2020.
Moss's trial, which began last week, heard Moss repeatedly slashed the girl's neck after the her mother brought him to the family home while he was in the midst of a psychotic episode.
Moss admits to causing Bella's death, but says he is not criminally responsible (NCR) because of a mental disorder that caused him to hear voices.
The Crown is contesting the NCR application. Another expert who assessed Moss said he was experiencing psychotic symptoms as a result of marijuana use.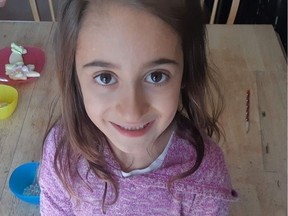 On Monday, defence lawyer Rod Gregory called Marc Nesca, a clinical forensic psychologist who prepared a report on Moss.
Nesca told court that at the time he killed Bella, Moss "was suffering from a mental illness that caused him to believe the conventional reality that we experience was actually a hologram, that nothing was real, including the people."
In this mental landscape, certain people including Moss could transcend to a "spiritual world" by undergoing a divine "awakening," which Moss told friends and family he was experiencing.
Nesca said it is still unclear why mental illness resulting from a brain injury can take years to manifest. However, he said it may have to do with stressors in Moss's personal life, which were exacerbated by the onset of the COVID-19 pandemic.
"Everything you can imagine is made worse by stress," Nesca said. "Stress is a variable that intensifies problems of any kind." 
Moss killed Bella May 18, 2020, hours after he was evaluated by an Edmonton police/Alberta Health Services mental health team.
During trial, Moss testified in his own defence and claimed a voice belonging to Bella's late father urged him to kill her.
Others close to Moss testified about the father of four's belief in conspiracy theories and "spiritual" practices, including alien abduction, 5G, government plots related to the pandemic, and the healing properties of crystals.
Defence witness discounts marijuana as factor
On Monday, court heard Moss suffered a major brain injury in 2004 that required a lengthy stay in hospital.
Article content
Nesca said Moss began to show behavioural changes in the years following the injury, including depression, anxiety and paranoia. He first reported hearing voices in 2012.
Nesca said his diagnosis is correct because "we have a verifiable injury that produced a course of illness … that accounts for all available symptoms."
He discounted the earlier opinion that found Moss was suffering from either cannabis withdrawal or "persistent psychotic state secondary to cannabis intoxication." 
"There's no evidence Mr. Moss was ever a heavy user, and there is evidence he stopped using days before," Nesca said.
"It doesn't account for what happened here." 
He also disagreed with the other psychological assessment's conclusion that Moss was "malingering" or exaggerating his symptoms.
Article content
Cross-examination
Moss took the stand in his own defence last week and faced cross-examination Monday by prosecutor Shivani Naidu-Barrett.
Naidu-Barrett noted instances where Moss's testimony did not line up with what he told mental health experts after his arrest.
In one example, Moss told court he was "totally blank" and did not think about killing Bella prior to attacking her.
Naidu-Barrett, however, noted that after his arrest, Moss told a psychologist that he was pacing and trying to suppress the thought.
"I don't recall having any thought like that, it just happened," Moss said Monday.
Moss's trial is scheduled to continue another two weeks and is being heard by Court of Queen's Bench Justice Steven Mandziuk without a jury.
Sign up to receive daily headline news from the Edmonton Journal, a division of Postmedia Network Inc.
By clicking on the sign up button you consent to receive the above newsletter from Postmedia Network Inc. You may unsubscribe any time by clicking on the unsubscribe link at the bottom of our emails. Postmedia Network Inc. | 365 Bloor Street East, Toronto, Ontario, M4W 3L4 | 416-383-2300